The new ride...The King is Dead! Long Live The King!
Long story short: I went and bought another Lemond road bike. I pushed the Ebay "Buy It Now" button, which is a lot like pulling the trigger, metaphorically. It felt REALLY GOOD to do that, and not fuck around, and know I had this very rare find in the bag. I say vary rare in that this is a brand new bike, stated by the owner to have been ridden only once. A six-year-old, brand new---
off the showroom floor new
. No wear on the tires. No dirt on the chain, no wear on the chainteeth, no scratches save a few scuffs on the Ultegra derailleur. I had to have it.
photo: Lemond's Facebook page
Greg Lemond, my hero back in the '80's. I met him in SF back then and he signed my cycling cap, which I still have. A great pioneering American bike racer. I think this in part is why I admire his now defunct line of cycles, bikes imbued with the fabled "Lemond geometry". Greg's line of bikes followed his thinking on how a road bike should behave, so they featured elements such as relaxed seat tube angles and longer top tubes. My Reno, which is size 55cm, actually measures out to 56cm on the top tube, which stretched me out a little too far, so I reduced the stem length until I was happy with an 8 cm stem. The Versailles is 53 cm even, so it is a size smaller but runs a 10cm stem, which fits just about right, it may take a little fine tuning to get it perfect.
For years I have had one bike always in the back of my mind---a top shelf Lemond Tete de Course from 2006 as a pinnacle of intriguing engineering, fascinating combination of frame materials in Titanium and carbon. But also as a pinnacle of beauty as represented by a traditional looking lugged road bike frame, but done in this seductive mix of a exotic light metal and aerospace composites.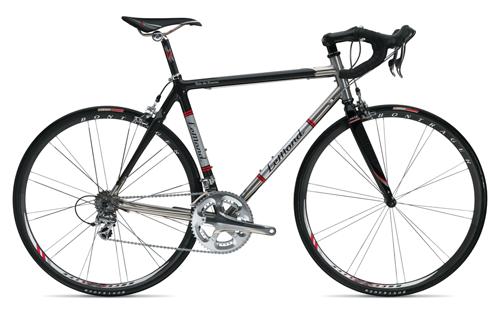 2006 Tete de Course
These bikes or frames sometimes showed up on Ebay, usually the wrong size or the wrong price (way too much) but I lusted after one just the same. My dream bike.
At the NAHBS (see last 2 blogs) I saw a lot of similar frame building using steel and carbon, titanium and carbon, and steel and bamboo. The reps told me how each of their frame matrixes produced the fastest, smoothest, most efficient rides because the individual tubes were tuned to the rider and his style. These are custom builders after all. Check out the blue English racer in my first installment---steel and carbon. This just reinforced my feeling that a blending of two materials might be better than one. Lemond at the time stated in its website that the spine concept which consists of a metal headtube/downtube/chainstays and a carbon "cockpit" of seat tube, headtube, and seatstays produced the best of both worlds: laterally stiff at the bottom bracket and headtube to resist twist bending, and vertically compliant thus smooth at the same time. These days these issues are addressed by the carbon layup in all carbon frames: super large bottom bracket joints for stiffness, ever larger headtubes for stiffness, pencil thins stays for ride. Most modern all carbon frames are looking like they were designed from the same computer calculations because everyone making carbon bikes has to come to, more or less, the same conclusion. If you want a more traditional looking bike then using different materials solves that problem of the Specialized Roubaix/Giant Defy appearance in modern rides.
At NAHBS, a titanium and carbon Exogrid frame
So I was surfing Ebay under "Lemond road bike", as usual, and this new listing pops up for a Versailles Carbon /Steel frame "spline concept" bike. It is very similar to the Tete de Course, but not finished at such a high level as the Tete. I knew from NAHBS that OX Platinum steel is quite nice high end stuff, with reputed liveliness and spring to the ride, and the OCLV carbon, a Trek proprietary carbon layup, surpasses aerospace standards. The bike also had Shimano 105/Ultegra mix, which I immediately signed off on as I think 105 gear is workmanlike and sturdy, Ultegra is a bonus.
The tubing vault at NAHBS: the best available steel samples. OX Platinum is 2nd from the top.
So I bought the bike. It arrived 2 days later, very professionally wrapped. It took me 45 minutes to get all the bubble wrap off it, but it was worth it as the pristine condition of the bike was revealed. Unbelievable! Like it had been simply transported in time to my house for my riding pleasure.
Detail bottom bracket: Bontrager Race Lite triple crankset, very nicely finished in dark smoke colorway. OX Platinum decal and lug where the seattube joins.
Arundel
stainless steel bottle cages.
Look carefully and you can see the seatstay/downtub lug and where the tubes are bonded to it. (just before the "V" in Versailles) Traditional round tubing, slightly oversize compared to steel, gives a retro, classic look to the frame. One aspect I would change is that the steel tubes are painted silver, and this color fades down the first third of the carbon fork. I would ultimately prefer no paint on this area, the natural raw steel clear coated, revealing the welds or brass brazings, the fork left natural carbon. But it is what it is, and the silver fade on the fork does echo the visual joining of the two very different materials in the frame, so I'm going with that and am happy with it.
The front derailleur adjustment sticker is still on the derailleur! I'm going to leave it there until it falls off. Note the 170mm cranks, which allow me much enjoyment fast spinning the cranks. 175's on the Reno. BIG difference, I have 170's on my Miyata and have always enjoyed those more than the Reno, which turns pedals slower, but with more leverage. Now I enjoy fast spin and low gears.
I bet by now you are asking me "Hey Flash, how does it ride anyway? Does it live up to the hype or is it another tangent offshoot idea that branched off and went nowhere?
It has a refined smoothness. It feels like it has reserves on tap, just push on the pedals and GO!
It's stiff, but lively, like there is a spring inside the frame. Or maybe an electric motor. At the same time, vibration into my butt is muted and softened compared to my aluminium Lemond. Smooth but not
plush
. On my ride today it almost felt like the bike was an animal, breathing in and out from beneath me...some kind of rythme had built up and I was reminded of a big cat running. This bike is a Panther. My other Lemond is more like a common mountain lion. Both are quite similar, but one just outclasses the other, is that much more lithe and evolved. It's lighter, faster, quicker handling, faster turning, smoother, and fits better.
This bike looks elegant, dressed up, very classy. Much like the Tete, it reflects a respect for classic design and good taste, while embracing new technology, either 2006 production or 2012 custom. However, the Bontrager spec'd parts like the stem and bars are functional but ordinary so there is room for improvement. The wheels are Bontrager's Rolf clones, and roll very nicely but I do have my new Giant PSL-1s I could put on this bike and that would be even nicer indeed.
From the web about the spline concepts:
"
The so-called "spine" bikes were introduced in 2003. The bikes featured either a steel or titanium "spine" which consisted of a head tube/top tube lug, head tube, down tube, bottom bracket shell with seat tube lug, chainstays, dropouts and seatstay lugs. Carbon fiber was used for the top tube, seat tube and seatstays. To get the geometry right, Trek had to produce new molds for the seat tube and seatstays.
The spine bikes represented the first big infusion of engineering into the LeMond line since the agreement (with Trek) was forged in 1995 . Not surprisingly, they were, overall, the best LeMond bikes that had been produced up to that point. The parts spec was good and the pricing was competitive. The carbon/titanium Tete de Course was light (a little more than 16 pounds), amazingly stiff, easy to fit to a mere human, and had a very distinctive look.
Here's something about the steel:
from Henry James' website:
TRUE TEMPER'S OX PLATINUM Series is based on state of the art steel metallurgy. The metallurgists at True Temper began with an aerospace grade of air hardening steel and modified it to enhance its properties for light weight bicycle frames. The ultimate tensile strength exceeds 195,000 psi.
Air hardenable steels are desirable for high performance welded steel frames. At the edges of the molten weld pool, as the metal freezes, an unavoidable microscopic notch is formed. This is a stress concentrator that magnifies the actual stresses of riding by a factor of 4 to 6 times. The weld is relatively small and cools so quickly that metallurgical changes occur creating localized hard and brittle areas, if the alloy is not specifically designed to avoid this.
Air hardening steels are metallurgically designed so that as the steel cools and solidifies from the molten state in air, the steel hardens to an even higher strength. The metallurgists must control the alloying elements so that the hardened steel is also tough and able to absorb impacts, rather than brittle and subject to fracturing.
True Temper not only solved these problems, but went further: Most heat treated steels tend to anneal, or soften, when heated between about 1000°F and 1500°F. TIG Welding, which heats the joint up to the melting point, must heat the part of the tube adjacent to the weld up into this annealing range, thus locally weakening the tube. This drop in strength has no effect on every day riding, but it does reduce the potential long term fatigue life and, in a crash, can lead to buckling of the frame.
OX PLATINUM is very resistant to this annealing. Thus an OX PLATINUM frame will survive crashes better, and also have a much better fatigue life.
When used on silver brazed lugged frames, OX PLATINUM neither air hardens nor anneals. Your frame is at 195,000 psi strength throughout, with no weaknesses! The PLATINUM Series alloys are ideal for both lugged and lugless frame construction!
PLATINUM main triangle tubes come in a range of wall thicknesses and butt lengths so builders can fine tune the frame's stiffness and strength to the rider's needs.
I chose well. I now have two awesome Lemonds. Life is good. Get out and ride!
Flash